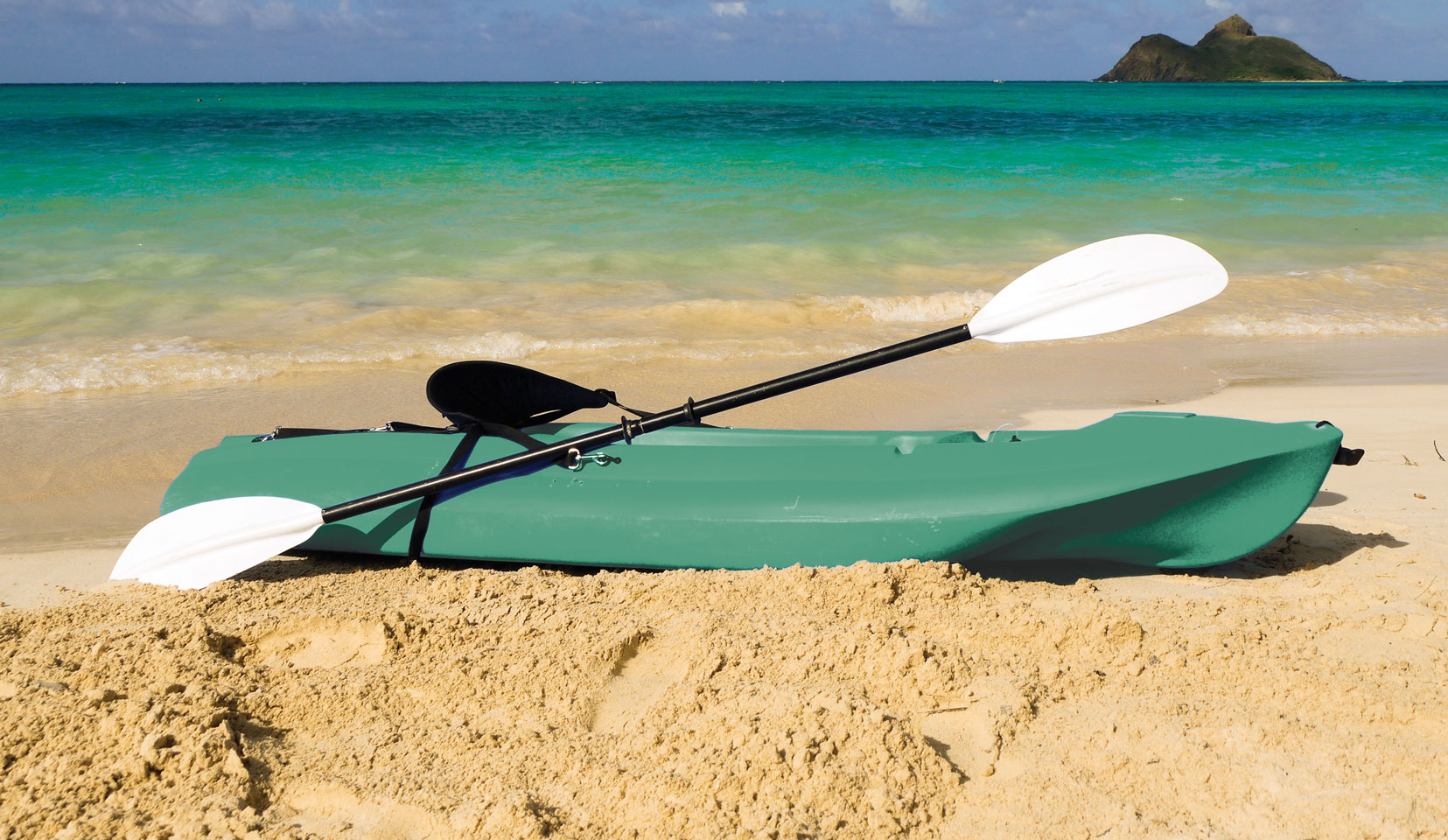 single kayak rental on lanikai beach, Oahu
Oahu Kayak Rentals
Our single Oahu kayak rentals are sit-on-top style. They're perfect if you want to get out on the water and still maintain your independence, or maybe you're just the only one in your group that wants to kayak! Oahu Kayaking is some of the best ocean kayaking in the world, and some of the best in Hawaii to be more specific. There are a number of small islands situated just off shore to paddle to, as well as some gentle flowing rivers to make your way up. Feel free to ask us for advice on where to go, and what oahu kayaking adventure best suits your ability level and/or interest.
When it comes to Oahu kayak rentals, we're the best price on the island, and we deliver it right to you!
All of Beach Time's Oahu kayak rentals come equipped with backrests, paddles, and life jackets
These fun little watercraft allow you to see and explore the ocean in a way you would never be able to otherwise! If you're looking for some company, consider renting one of our double kayaks.
The scenery and wildlife you're bound to see with our Oahu kayak rentals is nothing short of amazing. Our customers often see Honu, Hawaiian for sea turtles. During the spring humpback whales can be seen in the distance splashing, and the jagged ko'olau mountain range makes for breathtaking views looking back at the island.
If you're renting a beach house, consider a kayak rental for the week. The freedom of exploring right out of your backyard, anytime you'd like is hard to beat. Many of our customers that rent for the whole week don't just want to kayak from their house. We can always include kayak carts, roof racks, and straps upon request to make the transport of your kayak to various spots easier.
Our weekly single kayak rentals are priced the same as 3 days – that means you get 4 days for free
We love kayaking on Oahu, and we know you will too
Best locations on Oahu for kayaking:

Lanikai
Chinemens Hat Island
Haleiwa Beach Park
Sunken Island AKA Kaneohe Sand Bar
For a nice detailed review of Oahu kayaking, and some other useful information,
check out the Oahu page of Topkayaker