Ala Moana Beach Park | SUP Oahu at its best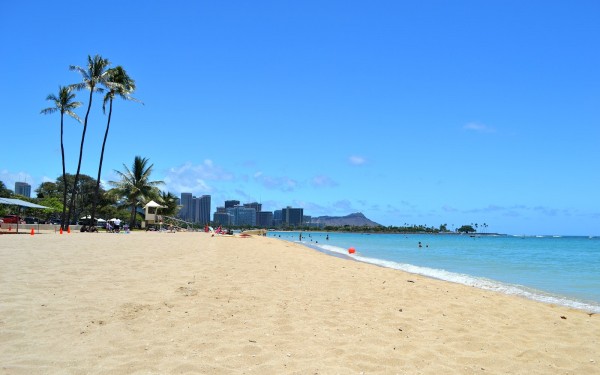 ALA MOANA BEACH PARK – OAHU SUP AT ITS BEST!
Oahu SUP (short for stand up paddle boarding) is one of our favorite past times, thats why went into business renting them in the first place. While there are many places to Stand Up Paddle Board on Oahu, our absolute favorite is Ala Moana Beach Park. This sandy stretch of beach is located just outside of Waikiki. It's easy to get to, parking is tolerable, and the water is UNREAL.
An outer reef protects the waters between the beach and the shore from receiving any swell, making it as placid as a lake. This combined with the soft white sand makes Ala Moana Beach the premier place for SUP on Oahu. It is also a convenient beach to hang out on for the day due to the Ala Moana Mall being right across the street. There are a number of good places to eat close by, in and outside of the mall.
If you're looking for Oahu SUP rentals, Hawaii Beach Time is one of the few business' that can help you get out on the water. If you just want to lounge around and take in the scenery, we have what you need for that too.

We deliver all kinds of beach gear to Ala Moana Beach Park daily
From chairs and umbrellas, to SUP's and Volleyball Nets, we have it all.
I'VE NEVER TRIED SUP, WILL I BE ABLE TO DO IT?
We hear this question all of the time. The answer, is absolutely. While we can't promise that you won't fall in a few times learning, we've seen people of all ages, shapes, sizes, and abilities pick this sport right up in no time. Our delivery drivers are skilled in the sport themselves, and are always happy to give you any advice you need. While a full blown lesson appeals to some, we don't see it very necessary, as stand up paddle boarding isn't too complicated. Just a little balance and a will to learn and you're good to go.
Oahu SUP rental is one of our specialties, and we've got what you need to make it happen. Most of our boards cater to novices, meaning that they are wide, stable, and foam topped so that you're less likely to bonk your knee if you fall down.
For details on the stand up paddle boards and other gear you'll need, check out our GEAR PAGE
For reviews and more info on Ala Moana Beach, check out these two pages:
TripAdvisor
Yelp