Have your kayaks, chairs, umbrellas and more delivered right to you at Lanikai Beach Park. The delivery is FREE! Give us a call: 808-585-1474
Lanikai Beach Summary:
Lanikai is one of Oahu's most popular and famous beaches. The sand is especially fine and white here and the water appears extra green/clear due to the shallow waters extending far off shore. Lanikai is a popular relaxation/kayaking beach.
Lanikai Relaxing:
The white sand, clear waters, and beautiful scenery make Lanikai beach one of the best on the island for renting a beach chairs, umbrellas, coolers, kayaks, or snorkel sets and just kicking your feet up. Weekends can be crowded but most weekdays are great for relaxing and taking in Hawaii. Our Lanikai Package is a great way to spend the day here.
Lanikai Kayaking:
The kayaking from Lanikai beach to the Mokulua islands just off shore is one of Oahu's most popular tourist activities. Hawaii Beach Time rents kayaks to visitors looking to paddle from Lanikai to the remote beach situated on the left island on a very regular basis. Oahu kayaking is some of the most scenic in the world, and there are very few adventures in Hawaii that are quite like it.

Lanikai Snorkeling:
The snorkeling in Kailua/Lanikai can be fun with the often sighting of sea turtles and many other interesting Hawaiian fish. Many reef heads exist between the shoreline and the outlying Mokulua Islands making this beach a great place to experience some Oahu snorkeling. HBT rents snorkel gear at Lanikai and Kailua Beach Parks on a regular basis and has everything you need to make sure you make the most of your beach day here.
Lanikai Stand Up Paddle Boarding:
The protected waters make Lanikai beach a great place to learn the popular new sport of stand up paddle boarding. However, if this is really the sport you are looking to try, we recommend Ala Moana Beach Park, where we rent stand up paddle boards on a much more regular basis due to the extremely calm waters.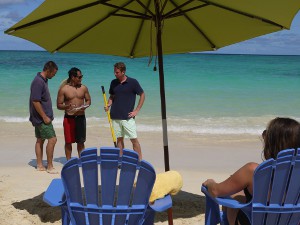 Lanikai Parking:
Its tough, Lanikai is a neighborhood so there aren't any parking lots. Be sure to park with the direction of traffic, and not to protrude int bike lanes(tickets are frequently issued.)
Lanikai Lifeguards:
No, but neighboring Kailua Beach Park, and Waimanalo Beach Park have them.
Lanikai Restrooms / Showers:
No, but neighboring Kailua Beach Park, and Waimanalo Beach Park have them.
Lanikai Nearby Restaraunts:
Neighboring Kailua Town is home to some of our favorite restarants on the island. Aloha Salads, Lanikai Juice, Teddy's Bigger Burgers, and India Café are all worth checking out.
Lanikai Driving Distance from Waikiki:
45 min. to 1 hour depending on traffic and if you're lucky enough to catch all green lights.
Lanikai History:
Lanikai is a beautiful subdivision of Kailua. Before such development, many years ago, the Hawaiians used the point at Lanikai; then called Ka'ohao, to scan for fish. It wasn't until 1924 was there a permanent house built there. Back then the drive across the old Pali road to the Kailua area was rather treacherous due to narrowness and high winds. Charles Fraiser, Irwin Beadle and Charles Heiser were responsible for the initial developments and paved and named the roads there. They also had the foresight to provide beach access points for non- beach residents.
Lanikai Gear To Rent:
Lanikai Kayak Rentals are very popular, as are chairs and umbrellas. Our Lanikai Package or For 2 package are very popular here. Lankai is also a popular beach for Stand Up Paddle Board rentals or SUP rentals, snorkel rentals, chairs, umbrellas, and coolers.
Lanikai Places / Sites Nearby:
Makapu'u light house, Lanikai pillbox hike, Maunawilli falls hike, Kailua Town, Pali Lookout(very scenic and historical.)