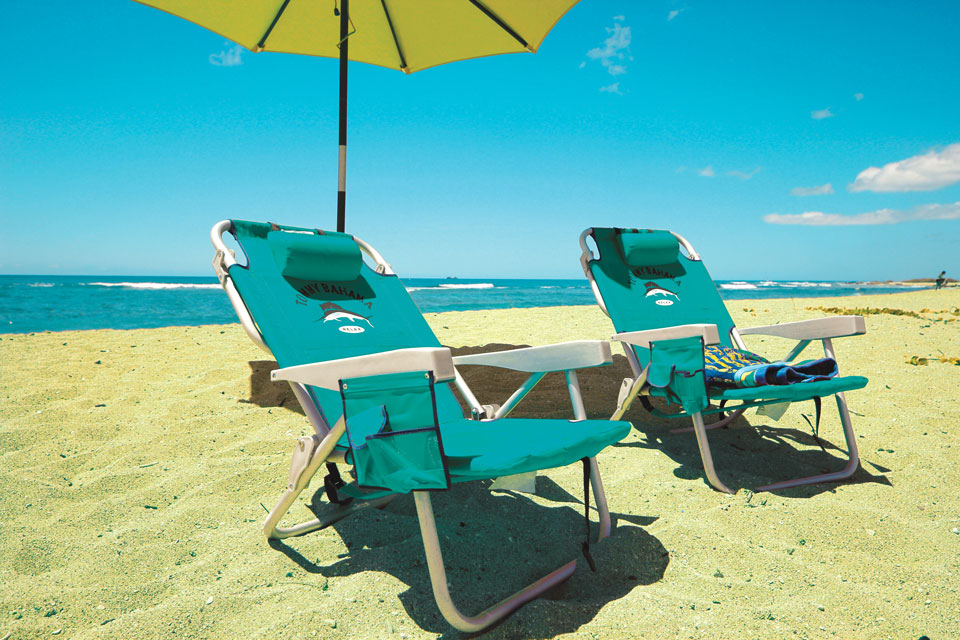 relaxing beach chairs on oahu
Oahu Beach Chair Rentals
Oahu beach chair rentals set us apart. We have all types. Lounge chairs, full size beach chairs, and folding chairs. The folding chairs are by far the best if you're looking to explore more than one beach on your visit, and you want to do it comfortably.
All folding chairs have backpack straps, making it easy to haul them around with you
Some of Oahu's best beaches are a little bit of work to get to, but well worth the effort. The problem is, when you get there, there aren't any rental stands to make things more enjoyable. The folding beach chair is the answer. Throw it on like its a back pack and go anywhere you want, and when you're done it fits right into the trunk.
We specialize in Oahu beach chair rentals because we've realized that it makes the entire beach experience so much better. We also have a number of other items that help make a beach day awesome. Check out our other gear. If a less mobile, more comfortable beach chair rental is what you're after, check out our full size beach chairs or a lounge chair.
If you're renting a beach house, consider a beach chair for the week. Lots of the vacation homes on the island do not come equipped with the chairs and other gear you may want to get out there relaxing and exploring. And if you're right on the ocean, why not get a kayak or SUP dropped off as well so you can get out anytime you'd like.
Our Oahu beach chair rentals are priced the same as a 3 days – that means you get 4 days for free
Best locations on Oahu for relaxing in a beach chair:

Lanikai
Waimea
Waikiki
Ala Moana
For a good guide on various Oahu beaches, check out:
The top 5 beaches Oahu