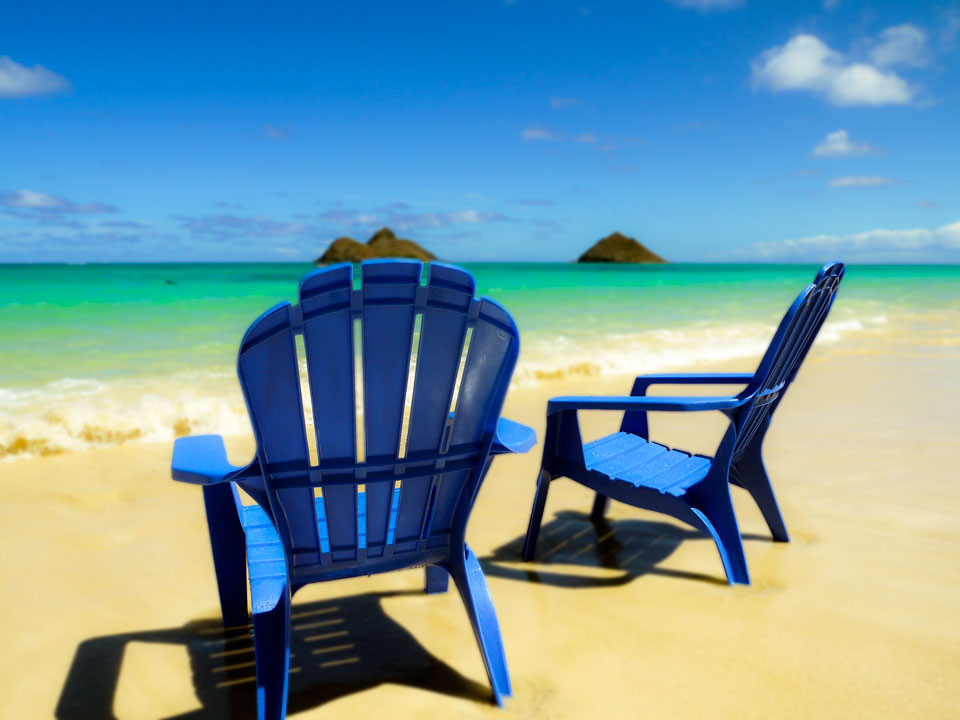 oahu and lanikai beach chair rental
Oahu Beach Chair Rentals
We got into this business because we realized that there was only one beach on the island where tourists and locals alike could have all of the gear they needed to relax and/or have fun, and that's Waikiki. NOT ANYMORE. We bring that same resort style experience to any beach on the island. Oahu beach chair rentals are no longer limited to the annoying hustle bustle of Waikiki. Now you can lounge out under an umbrella, with a cooler full of ice, on any beach that suits your fancy.
Our full size beach chairs are made of smooth durable plastic. They're adirondack style, meaning they're designed after those chairs you would picture on a beach in New England. They recline nicely and have very comfortable arm rests. They really are the best way to go if you're looking to lounge around in style.
Beach Chairs make the difference
Without them its a towel and a bunch of sand in your teeth. For a truly perfected beach package, add a cooler w/ ice and umbrella to your order.
Our weekly stand up paddle board rentals are priced the same as a 3 days – that means you get 4 days for free
Other popular locations for Oahu Stand Up Paddle Boarding include:
Lanikai
Haleiwa
Waikiki
When it comes to Oahu stand up paddle boarding, we have you covered!
Check out TripAdvisor's Ala Moana Beach Park page to learn more about our favorite spot to SUP on Oahu